You are here:
Redwing Turf 24 Tyres
Redwing Turf 24 Tyres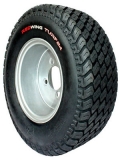 Click Image to Enlarge
Prices vary depending on size
Redwing Turf 24 Lawncare Commercial Tyres
Scroll down for technical information.
REDWING TURF24 TYRE | REDWING TURF 24 TYRE
RED

WING TURF 24 RIDE ON MOWER TYRE | TURF 24 GRASS TYRE |

RED

WING TURF 24
COMMERCIAL GRADE HIGH QUALITY LAWNCARE TYRE
Why choose the
Red

wing Turf 24 tyre?

The Redwing Turf24 is a tough hardwearing commercial grade tyre offering excellent alternatives to your usual brand and can be retro fitted onto machines from all leading manufactures. Available in popular ride on mower tyres sizes designed to fit onto six, eight, ten and twelve inch rims. The Redwing Turf 24 tyre is kind to grass but with advanced grip properties for superb handling. The new generation of tyres have arrived.
Technical Specifications

Overall
Diameter
Width
Radial [R]
Crossply [X]
Rim Size
Ply
Rating









366 mm
155 mm
Crossply
6"
Permitted Rim
(4.50x6 rim)
4 ply
Tube Type [TT]
Tube Less [TL]
Load Index
Speed Rating
Pressure (Bar/Psi)
E Marked
Road Legal











TL
257 kg
10 mph
2.10 bar
30 psi
no
no