COVID-19 UPDATE
We are operating as normal during the pandemic. Please be aware that some deliveries may take a little longer due to the increased capacity of consignments in our courier's distribution networks.
You are here:
Sava Scooter Tyres B14
Sava Scooter Tyres B14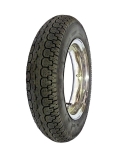 Click Image to Enlarge
No products found in this category.
The SAVA B14 is a traditionally styled all weather tyre ideal for vintage scooters and those that have been retro-styled.
They have a high load capacity due to their reinforced tyre carcass design.
The tyre tread profile and compound design offer excellent handling characteristics in the wet combined with excellent braking, whatever the weather conditions.