PHONE LINE UPDATE: Some customers are experiencing issues when calling us. If this is the case, please click/tap here to email us and we'll be in touch with you as soon as possible.
You are here:
Sava Scooter Tyres
Sava Scooter Tyres

Savas Classic Scooter tyre to suit all old timer Lambrettas and Vespas.
Ideal to keep that Vintage look but with modern improved tyre design and rubber compounds.
With the added benefit of the only full Scooter tyre range made in Europe.
Read More..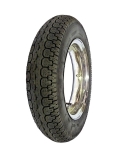 Sava Classic Scooter Tyre